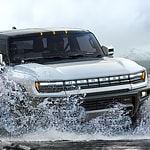 The all-new GMC Hummer EV is an electric SUV that offers an impressive driving range and plenty of standard features. It's a great choice for those who want an eco-friendly SUV with plenty of power.
The Hummer EV has a range of over 400 miles on a single charge, making it one of the longest-range EVs on the market. It's also one of the quickest, with a 0-60 time of just 3 seconds. The Hummer EV comes standard with features like adaptive cruise control, automatic emergency braking, and a hands-free tailgate. The Hummer EV will also offer other driver assists such as rear cross-traffic alerts and a rear camera.
The exterior of the Hummer EV is sure to get lots of attention while you're driving. It features a bold design with plenty of chrome accents. The SUV is also available in a range of eye-catching colors.
If you're looking for an electric SUV with plenty of power and range, the GMC Hummer EV is an exciting option.