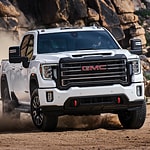 With a legendary heritage of providing the most comfortable, powerful, and accessible experience ever had in a pickup, drivers in Ballston Spa, NY have preferred the GMC Sierra 2500 HD for many reasons. And now, with the release of some incredible technologies, the 2022 GMC Sierra 2500 HD here at Mangino Buick GMC is one of the most capable pickups on the market.
Thanks to a 6.6L V8 turbo-diesel engine that provides an unbelievable 445 hp and 910 pound-feet of torque, the 2022 GMC Sierra 2500 HD can tow up to an impressive 36,000 pounds while utilizing a silky-smooth Allison 10-speed transmission. To help keep the vehicle cool, a dedicated 28-inch multi-speed cooling fan was even introduced, in addition to a useful hood scoop. Plus, the 2022 GMC Sierra 2500 HD even offers available Auto Electric Parking Brake and Park Grade Hold Assist for parking on hills.
Combining all of this with independent front suspensions and semi-elliptic rear leaf springs, what you get is perfect wheel alignment, perfect ride comfort, impressive turnability, and one unforgettable driving experience.