MANGINO CHEVROLET IN THE COMMUNITY
"This year, the Saratoga Country School District is proud to nominate Mangino Buick-GMC for the Chamber of Southern Saratoga County Education & Business Partnership Award. The Mangino family has been part of the fabric of the BALLSTON SPA school community for generations as a very active partner with the district, and they truly share the mission of educational excellence for our students".
"Their support includes substantial scholarships for students, donations of the use of automobiles for Summer programs and teen driver safety week, volunteering in our schools at many events, and underwriting and supporting school based fundraisers. They place countless ads in our school district publications, including yearbooks and PTA newsletters, support our After-Prom party along with providing BRIDGES students a community worksite as part of our high school program. The family is a great athletic booster club supporter, both with volunteers and resources, and for the past several years they have supported our annual opening day breakfast".
"Through all of their efforts, individually and as a corporation, they have clearly demonstrated that they are a critical business partner in supporting educational opportunity for students in Southern Saratoga County".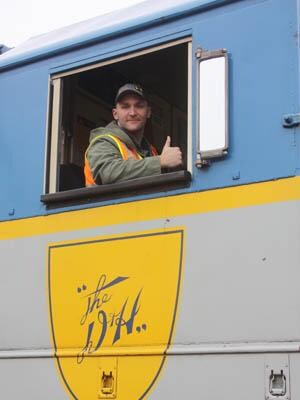 Here's a great story. Since he was 3 years old, Justin Couture was fascinated and obsessed with trains. He spent may hours playing with trains, watching them pass, and dreaming of one day becoming an engineer. Justin's Grandmother would take him to watch the trains pass through Cobleskill. Justin made his dreams come true, being hired in 2000 by CXS, working in Selkirk railyards as a conductor them making his way up to Engineer and now employed by Amtrak. This year was extra special, as he got to drive the Toys-for-Tots train from Binghamton to Rensselaer, passing through Cobleskiil on the way. Justin is the son of Mangino Chevrolet employee Mike Couture.
Last year when Olivia Lawrence's parents Mark and Tonya won the silent auction item titled "Principal for a Day" at the Saratoga Central Catholic Hoopla Fundraiser, the 7th grader knew she would have a great day filled with fun activities. As Principal, she would be making the announcements, getting out of class to perform principal duties, going to lunch with the principal and a few friends. But the one thing she looked forward to the most was changing some rules that day. Principal Olivia gave her students the option to "dress down" (nonuniform) for the day for a $3 donation. The greatest part of Principal for a Day may come in the form of a lesson for these young students on the importance of thinking others and of giving back. When asked where Olivia wanted the $542.80 she raised that day to go, she quickly responded, "TEAM MAME." Olivia has participated in the Susan G. Komen race for a cure as part of Team Mame, in memory of Mary Mangino, for the last 6 years. As a graduate of our very own St. Mary's School, we are glad to have her as part of our community.